For over 40+ years, Benchmark has actively supported our customers in the aerospace and defense (A&D) markets through design, engineering, manufacturing, and post-production expertise. Our continued investment in advanced technologies allows us to collaborate with our A&D customers to build the highest quality of defense systems for today's—and tomorrow's—battlefield. From ruggedized designs, data interoperability, and size, weight, power, and cost (SWaP-C) optimization to autonomous ground vehicle design, artificial intelligence, and RF systems, Benchmark's A&D legacy has always supported our warfighters on the everchanging battlefield. But it doesn't stop there. As our warfighters return home and begin to transition to civilian careers, Benchmark is here to support their journey.
BRAVE—Supporting Our Veterans
We recognize the importance of aligning the diversity of our workforce to our customers. We take pride in the valuable skills and experiences that military veterans can bring to our team and have taken steps to actively recruit and support veterans throughout our organization. Veterans transitioning from a military to a civilian career offer any number of valuable skills, including time management, problem solving, and effective decision making. These technical, analytical, and creative skills serve companies across industries extremely well. Here, at Benchmark, we are committed to recruiting and hiring veterans, and are pleased to announce the launch of "Benchmark Resources Advocating Veteran Employees" (BRAVE). BRAVE is an employee resource group for veterans, National Guard and Reserve, and military family members and friends to support each other in the workplace.
BRAVE is designed to support and empower veterans who work at Benchmark, as well as to raise awareness of the unique challenges and opportunities faced by veterans in the workplace. The launch of BRAVE is part of a broader effort by Benchmark to create a more inclusive and diverse workplace culture. We believe that diversity is critical to innovation, creativity, and success. Our goal is to create an environment where all employees feel valued, respected, and empowered to do their best work.
As part of this effort, BRAVE will offer a range of resources and activities to support our company's veterans, including networking events, mentorship opportunities, professional development workshops, and community service projects. The group will also serve as a platform for veterans to share their experiences and insights with their colleagues, helping to build greater understanding and appreciation of the unique contributions that veterans can bring to the workplace.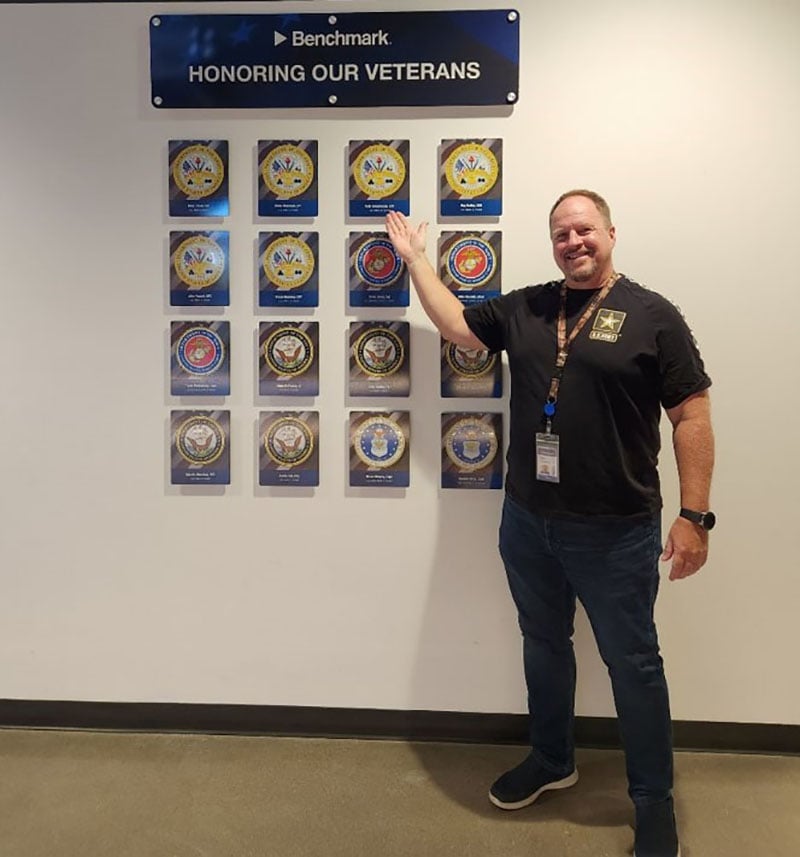 Community Partnerships
In addition to supporting veterans at Benchmark, BRAVE will also work to support the broader veteran community through partnerships with local organizations and charities. This will include initiatives aimed at helping veterans transition to civilian careers, supporting mental health and wellness, and addressing issues such as homelessness and unemployment among veterans.
Benchmark BRAVE
The launch of BRAVE is an exciting development for Benchmark and a testament to our commitment to creating an inclusive and supportive workplace culture. By providing resources and support to veterans around the world, BRAVE will help to ensure that these valuable members of the workforce are able to thrive and succeed in their careers at Benchmark and beyond. Reach out to Benchmark to learn more about this exciting new Employee Resource Group!